Erica verticillata
whorl heath
An erect, evergreen shrub, to 1.5m tall, with soft, dark-green foliage. Pale mauve-pink tubular flowers, to 1.5cm long, are arranged in tightly-packed whorls near the tips of stiffly-upright, otherwise bare, stems and are borne intermittently throughout the year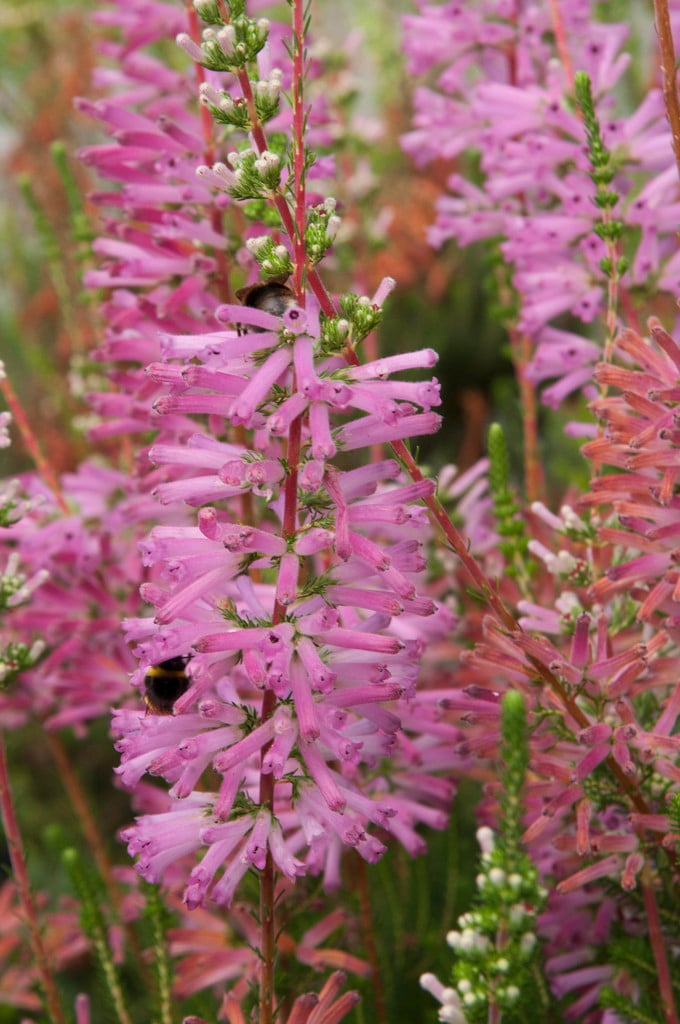 Size
Ultimate height
1–1.5 metres
Time to ultimate height
5–10 years
Ultimate spread
0.5–1 metres
Growing conditions
Moisture
Moist but well–drained,
Well–drained
Stem
Flower
Foliage
Fruit
Spring

Purple

Pink

Green

Summer

Purple

Pink

Green

Autumn

Purple

Pink

Green

Winter

Purple

Pink

Green
Position
Aspect
West–facing or East–facing or South–facing or North–facing
Exposure
Exposed or
Sheltered
Botanical details
Family

Ericaceae

Native to the UK

No

Foliage

Evergreen

Habit

Bushy

Genus

Erica can be prostrate or erect, evergreen shrubs with fine, needle-like leaves in whorls, and racemes or panicles of small, bell-shaped or tubular flowers

Name status

Unresolved

Plant range

S Africa (Cape)
How to grow
Cultivation
Grows best in a well drained, acidic soil in full sun. See Hardy heathers for further advice
Propagation
Propagate by seed or by semi-hardwood cuttings
Suggested planting locations and garden types
City and courtyard gardens
Coastal
Cottage and informal garden
Low Maintenance
Banks and slopes
Pruning
Pests
Generally pest-free
Diseases
May be susceptible to fungal diseases, including honey fungus (rarely), and Phytophthora root rot, in wet conditions
Get involved
The Royal Horticultural Society is the UK's leading gardening charity. We aim to enrich everyone's life through plants, and make the UK a greener and more beautiful place.