Aconitum carmichaelii
Carmichael's monk's hood
Clump-forming species perennial, very variable in height from 60cm to 2m tall, but usually about 1.2m, with 3 to 5-lobed leathery dark green leaves. Dense panicles of large pale violet or pale blue flowers to 1.5m in height, are produced in autumn
Synonyms
Aconitum fischeri misapplied

Aconitum
maximum
see more
Aconitum fischeri J. Forbes & Hemsl.

Aconitum
wilsonii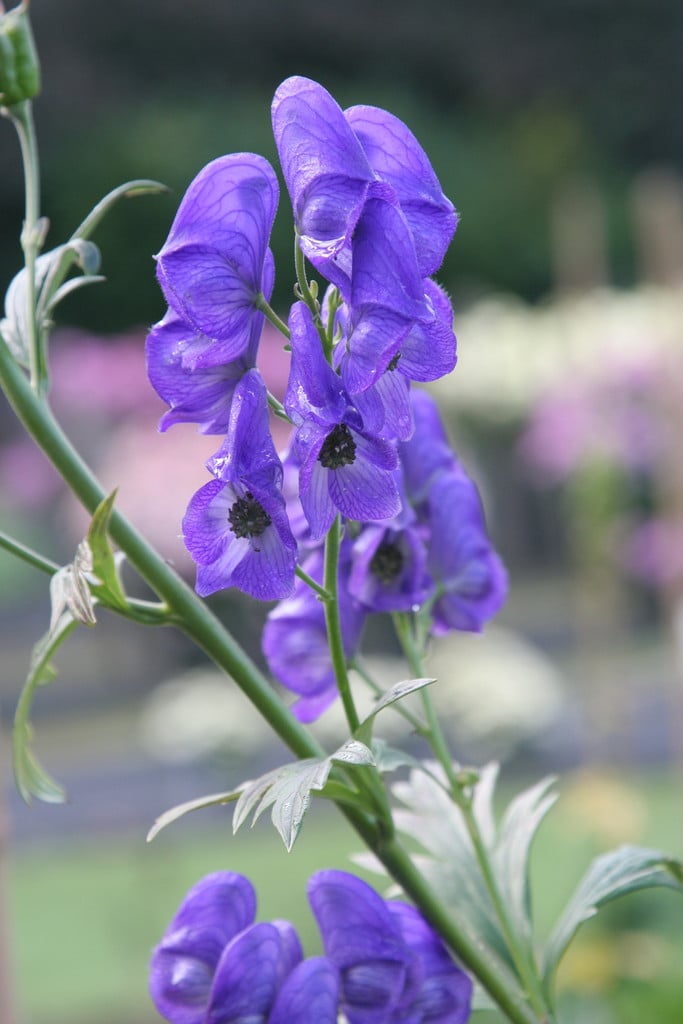 Size
Ultimate height
1.5–2.5 metres
Time to ultimate height
2–5 years
Ultimate spread
0.5–1 metres
Growing conditions
Moisture
Moist but well–drained
pH
Acid,
Alkaline,
Neutral
Stem
Flower
Foliage
Fruit
Spring

Green

Summer

Green

Autumn

Blue

Purple

Green

Winter
Position
Aspect
East–facing or North–facing or West–facing
Botanical details
Family

Ranunculaceae

Native to the UK

No

Foliage

Deciduous

Habit

Clump forming

Potentially harmful

TOXIC if eaten,

avoid skin contact. Wear gloves and other protective equipment when handling

Genus

Aconitum can be herbaceous perennials or biennials with lobed leaves and racemes or panicles of showy, hooded flowers

Name status

Correct

Plant range

C & W China, N. America
How to grow
Cultivation
Grows best in deep, cool, moisture-retentive soil in partial shade, but will also tolerate most soils and full sun if soil is humus-rich and protected with mulch to ensure that it is moist throughout the growing season, staking may be required; use protective gloves
Propagation
Propagate by division in autumn or late winter; division every few years may encourage good flowering stems, though plants may be slow to re-establish; use protective gloves
Suggested planting locations and garden types
Cottage and informal garden
Architectural
Wildlife gardens
Flower borders and beds
Pruning
No pruning required except cutting back dead stems; use protective gloves
Pests
May be susceptible to aphids
Diseases
May be susceptible to fungal stem rot and Verticillium wilt
Get involved
The Royal Horticultural Society is the UK's leading gardening charity. We aim to enrich everyone's life through plants, and make the UK a greener and more beautiful place.