Conservatory Greenhouse
Shrubs
Buddleja auriculata
weeping sage
Tender evergreen shrub to 3m tall, with lance-shaped, dark green leaves white beneath, and small orange-centred, white flowers in dense panicles in autumn and winter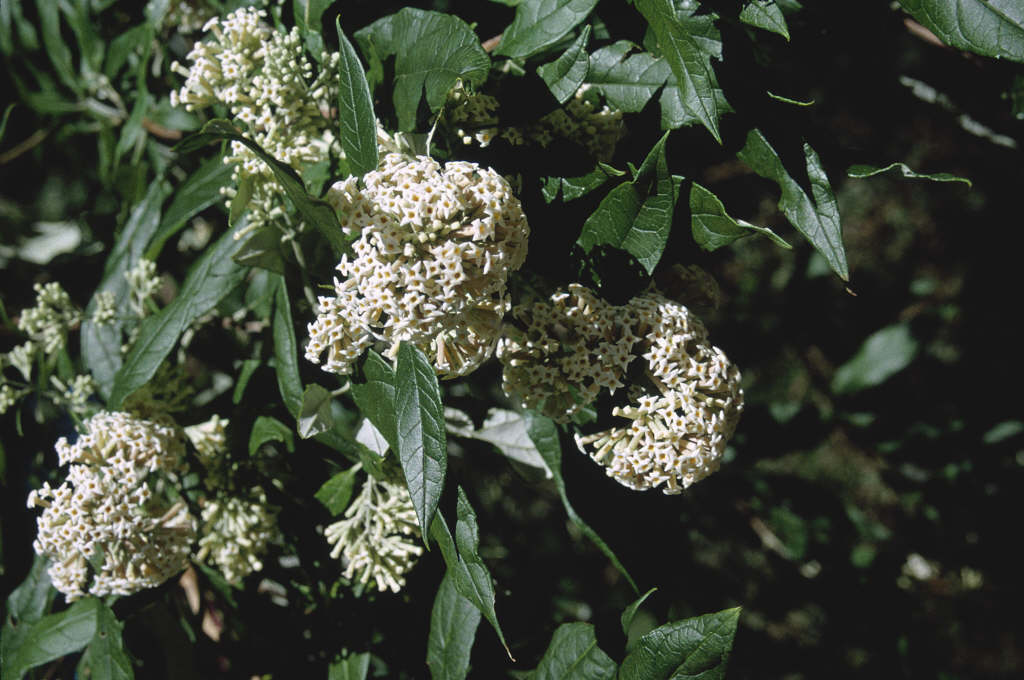 Size
Ultimate height
2.5–4 metres
Time to ultimate height
2–5 years
Ultimate spread
2.5–4 metres
Growing conditions
pH
Acid,
Alkaline,
Neutral
Stem
Flower
Foliage
Fruit
Spring

Green

Summer

Green

Autumn

Cream

White

Orange

Green

Winter

Cream

White

Orange

Green
Position
Aspect
South–facing or West–facing
Botanical details
Family

Scrophulariaceae

Native to the UK

No

Foliage

Evergreen

Habit

Bushy

Genus

Buddleja can be evergreen or deciduous shrubs, occasionally trees or scrambling climbers with simple leaves and panicles of small, tubular fragrant flowers

Name status

Correct

Plant range

S Africa
How to grow
Cultivation
Needs full sun, well-drained soil and a frost-fee location. Ideal for a large conservatory or greenhouse. See buddleja cultivation for more detailed advice
Propagation
Root semi-ripe cuttings in summer
Suggested planting locations and garden types
City and courtyard gardens
Mediterranean climate plants
Sub-tropical
Conservatory and greenhouse
Pruning
Pests
May be susceptible to aphids, capsid bugs, caterpillars, earwigs, figwort weevils, glasshouse red spider mite, leaf and bud eelworm, and mullein moth
Diseases
May be susceptible to honey fungus, fungal leaf spot, and virus diseases
Get involved
The Royal Horticultural Society is the UK's leading gardening charity. We aim to enrich everyone's life through plants, and make the UK a greener and more beautiful place.