Herbaceous Perennial
Synonym
Aster 'Glow in the Dark'
aster 'Glow in the Dark'
A tall perennial, to around 1.2m high, with dark near-black stems and narrow, purple-tinted leaves. Branching sprays of lilac-pink daisy-like flowers are produced in autumn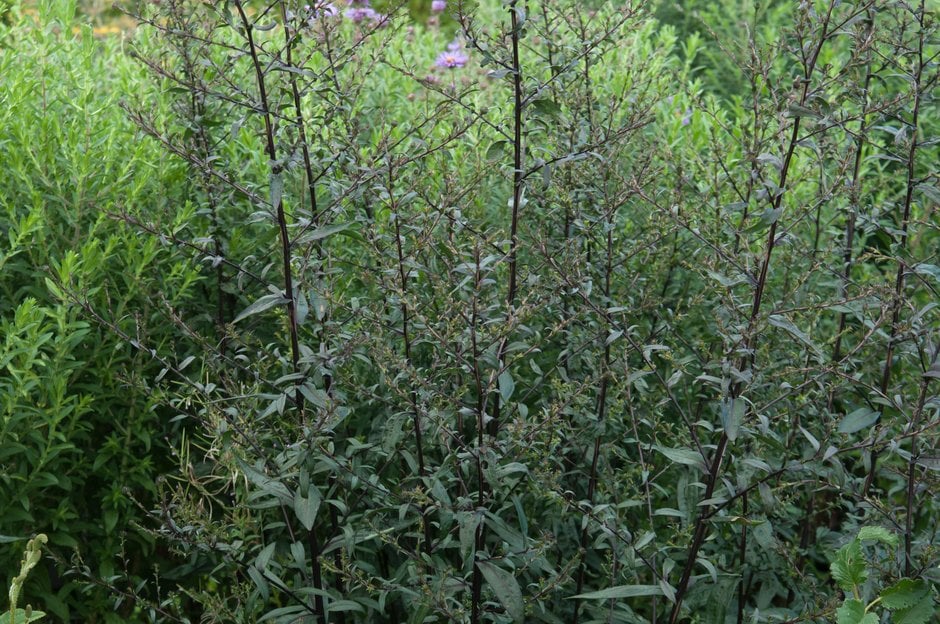 Size
Ultimate height
1–1.5 metres
Time to ultimate height
2–5 years
Ultimate spread
0.5–1 metres
Growing conditions
Moisture
Moist but well–drained
pH
Acid,
Alkaline,
Neutral
Stem
Flower
Foliage
Fruit
Spring

Green

Purple

Summer

Green

Purple

Autumn

Pink

Purple

Green

Purple

Winter
Position
Aspect
South–facing or West–facing
Exposure
Exposed or
Sheltered
Botanical details
Family

Asteraceae

Native to the UK

No

Foliage

Deciduous

Habit

Bushy

Genus

Symphyotrichum includes around 90 species of annuals, biennials and perennials, mostly spread through the Americas, that were formerly included within the genus Aster. Leaves are simple, lance-shaped and entire, but it is their daisy-like flowerheads that they are grown for; central disc florets are typically yellow, surrounded by strap-shaped ray florets in shades of pink, blue, purple or white

Name status

Accepted
How to grow
Cultivation
Grow in well-cultivated, fertile, moist but well drained soil in sun or partial shade. Divide every three to five years to retain vigour and flower quality. May need support - see staking perennials
Propagation
Propagate by division in spring, replanting only vigorous young shoots
Suggested planting locations and garden types
Cottage and informal garden
Wildlife gardens
Cut flowers
Flower borders and beds
Pruning
Cut stems close to the ground in late autumn
Pests
May be susceptible to tarsonemid mite, slugs, snails, aphids, leaf and bud eelworms
Diseases
May be susceptible to Fusarium wilt, powdery mildews, leaf spots and grey moulds
Get involved
The Royal Horticultural Society is the UK's leading gardening charity. We aim to enrich everyone's life through plants, and make the UK a greener and more beautiful place.