Conservatory Greenhouse
Herbaceous Perennial
Canna 'Lenape'
canna 'Lenape'
Clump-forming perennial about 1.5m tall, with large, broad pale-edged green leaves, and funnel-shaped, bright golden-yellow flowers heavily freckled with red spots, opening from midsummer to early autumn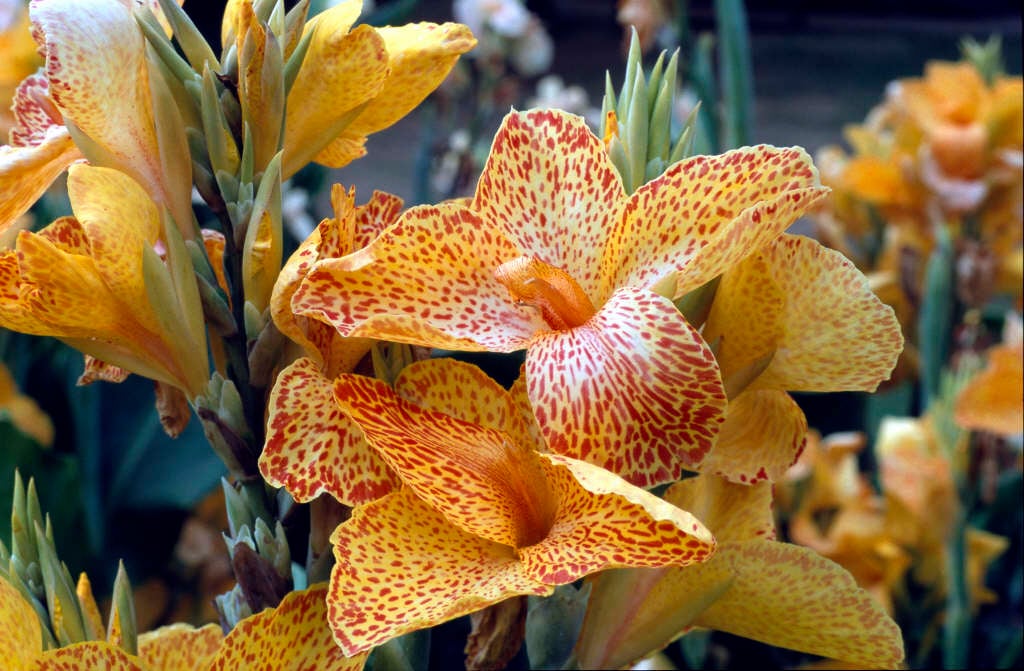 Size
Ultimate height
1–1.5 metres
Time to ultimate height
2–5 years
Ultimate spread
0.1–0.5 metres
Growing conditions
Moisture
Moist but well–drained
pH
Acid,
Alkaline,
Neutral
Stem
Flower
Foliage
Fruit
Spring

Green

Summer

Gold

Yellow

Green

Autumn

Gold

Yellow

Green

Winter
Position
Aspect
South–facing or West–facing
Botanical details
Family

Cannaceae

Native to the UK

No

Foliage

Deciduous

Habit

Bushy

Genus

Canna are rhizomatous herbaceous perennials with erect stems bearing ovate leaves, with showy flowers with showy petal-like staminodes and small, coloured petals and sepals, borne in racemes or panicles in summer and autumn

Name status

Accepted
How to grow
Cultivation
As a patio plant grow in pots of loamless compost in a sheltered site in full sun. Plants can also be planted into a sunny border. Water freely and apply a high potassium feed every 2-3 weeks in the growing season. Lift the rhizomes in autumn when frost blackens the foliage. Store over winter in barely moist compost in frost-free conditions. See canna cultivation for further information
Propagation
Propagate by division of rhizomes in spring
Suggested planting locations and garden types
Architectural
City and courtyard gardens
Patio and container plants
Coastal
Cottage and informal garden
Sub-tropical
Flower borders and beds
Bedding
Conservatory and greenhouse
Pruning
Leave to die back in autumn, deadhead flowers to prolong flowering
Pests
May be susceptible to slugs and snails, caterpillars, glasshouse red spider mite and aphids
Diseases
May be susceptible to canna viruses
Get involved
The Royal Horticultural Society is the UK's leading gardening charity. We aim to enrich everyone's life through plants, and make the UK a greener and more beautiful place.