Astilbe chinensis var. taquetii 'Superba'
Chinese astilbe 'Superba'
Vigorous clump-forming perennial about 1.2m tall, with divided glossy, dark green leaves, and erect, narrow, dense spikes of rosy-mauve flowers to 50cm long, appearing in late summer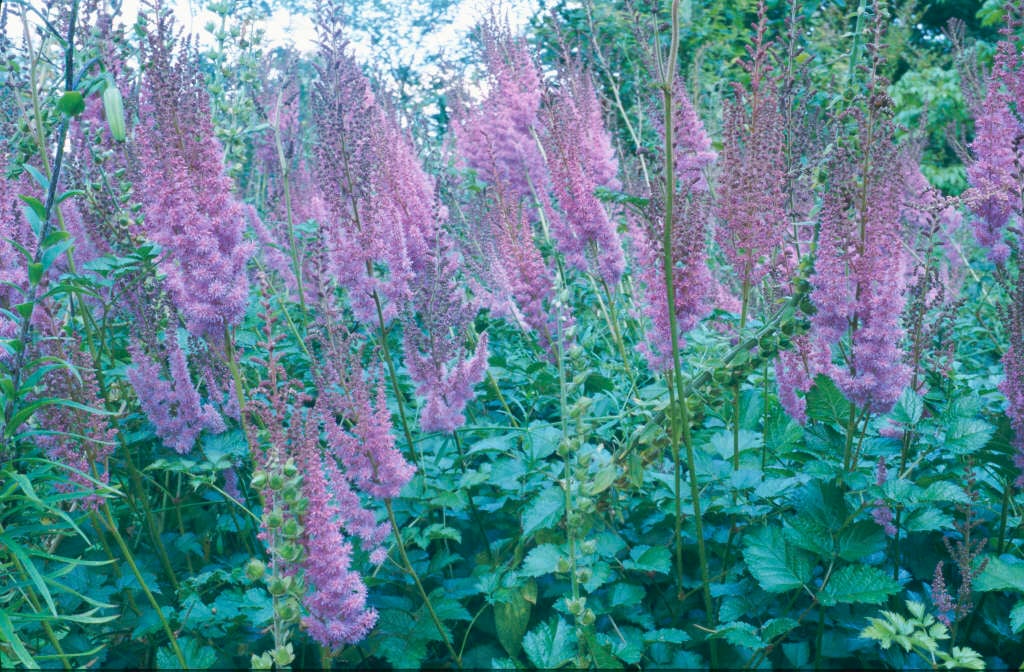 Size
Ultimate height
1–1.5 metres
Time to ultimate height
2–5 years
Ultimate spread
0.1–0.5 metres
Growing conditions
Moisture
Moist but well–drained,
Poorly–drained
pH
Acid,
Alkaline,
Neutral
Stem
Flower
Foliage
Fruit
Spring

Green

Summer

Purple

Pink

Green

Autumn

Green

Winter
Position
Aspect
South–facing or West–facing or East–facing
Exposure
Exposed or
Sheltered
Botanical details
Family

Saxifragaceae

Native to the UK

No

Foliage

Deciduous

Habit

Clump forming

Genus

Astilbe are rhizomatous herbaceous perennials with attractive, usually ternately divided leaves and erect plume-like panicles of tiny white, pink or purple flowers in summer. The old, brown flower-heads remain attractive in autumn

Name status

Accepted
How to grow
Cultivation
Grow in moist but well-drained or boggy soil in dappled shade, or in indirect sun where the soil remains moisture-retentive in summer. Drought intolerant, may be damaged in hot sun. Good for waterside planting. See Astilbe cultivation
Propagation
Propagate by division in late winter or early spring, pot divisions under glass and plant out in late spring.
Suggested planting locations and garden types
Cottage and informal garden
Flower borders and beds
Pruning
Cut back after flowering
Pests
May be susceptible to vine weevil
Diseases
May be susceptible to Powdery mildews
Get involved
The Royal Horticultural Society is the UK's leading gardening charity. We aim to enrich everyone's life through plants, and make the UK a greener and more beautiful place.